Welcome To Nikas Studio
HERE IS MY SITE
I am creating movies and animations , then i pout them in my site.I also create images and 3d scenes . I make movies and now i need more producers and actors .
VISIT OUR GALLERY
PLEASE SEND US YOUR WORK AT mamia@in.gr AND I WILL POUT IT TO MY GALLERY .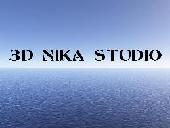 VISIT MY GALLERY
VISIT CG GALLERY
HERE I HAVE SOME INTERESTING THINGS TO SHOW YOU .I MADE ALL THE 3D IMAGES THAT YOU WILL SEE PLEASE SEND US YOUR CG WORK AND I WILL POUT IT IN TO MY CG GALLERY .
Fantasy gallery